iXensor is the pioneer of mobile health.
We turn ordinary smartphones into versatile lab-grade medical diagnostic devices for point-of-care testing and at-home self-testing solutions. PixoTest®, our first product, is also the world's first FDA approved smartphone camera-based blood test dated back in 2017.
The founding team of iXensor first met at Stanford University in 2011. At that time, they saw the rise of the smartphone and its potential to reshape future healthcare. In 2012, iXensor was founded in Silicon Valley and then incorporated in Taipei, Taiwan. Our interdisciplinary team combines expertise in medical engineering, biochemistry, and information technology to develop innovative digital health solutions that empower tomorrow's connected healthcare.
Our product lines cover Women's Health, Chronic, and Infectious Diseases and are powered by our core technology – PixoTech® platform protected by more than 80 international patents. PixoTech® serves as the platform-as-a-service model and will be the engine for our next phase of growth.
We have received many international awards for our innovation, and our business has also been accelerated by Merck Accelerator, Plug & Play's Creasphere, and Johnson & Johnson Innovation's JLABs.
Mission
To facilitate data-driven healthcare with instant medical tests and seamless data synchronization.
Vision
To make quality healthcare accessible and timely for all.
iXensor announced strategic partnership with Innova Medical Group at MEDICA
PixoTest® POCT COVID-19 Antigen Self-Test Kit received TFDA EUA in Taiwan.
iXensor Received Strategic Investment from Rohto Pharmaceutical with A Separate Technology Licensing Agreement.
PixoTest® POCT COVID-19 Antigen Test won 2022 Taiwan Excellence Gold Award.
PixoTest® POCT COVID-19 Antigen Test received National Innovation Award.
PixoTest® POCT COVID-19 Antigen Test received the CE-IVD mark in Europe, TFDA EUA in Taiwan and TGA approval in Australia.
PixoTech® trademark approved in the EU, USA and Taiwan
Eveline Smart Fertility System awarded SHOPLINE Brand Award
Invited by Johnson & Johnson Innovation to become a resident at JLABS @ Shanghai
PixoTest® POCT system - HbA1c received approval from Health Sciences Authority in Singapore
Selected in Plug & Play's Startup Creasphere program by Roche.
Eveline Smart Fertility System awarded National Parenting Product Awards.
iXensor appointed Dr. Peter Fitzgerald as new Chairman and Dr. Carson Chen
as new CEO to develop and execute its global growth strategy
iXensor selected as Merck Accelerator partner.
PixoTest A1c Monitoring System got 510(k) clearance.
PixoTest Lipid Monitoring System TFDA certified.
PixoTest POCT System awarded German Design Award.
PixoTest POCT System awarded Taiwan Excellence.
Eveline Smart Fertility System awarded German Design Award.
PixoTest POCT System (Lipid, A1c) got CE certificate.
Chosen as the representative of Taiwan to participate the Mobile World Congress (MWC) in Spain.
Presented HbA1c monitoring system at Advanced Technologies & Treatments for Diabetes (ATTD), Vienna.
iXensor chosed to be the CES representative of Taiwan.
Eveline Smart Fertility System won CES "the best of babyTech" award.
PixoTest POCT got NGSP certificate.
PixoTest Blood Glucose Monitoring System (BGMS) got FDA 510(k) clearance
Eveline Smart Fertility System awarded Taiwan Excellence Award, Taiwan.
Eveline Smart Fertility System awarded Good Design Award, Japan.
PixoTest BGMS awarded Digital Health Award.
PixoTest BGMS's clinical trial published on national journal, JDST
PixoTest® BGMS pass Geman IDT clinical trial
PixoTest® BGMS Taiwan TFDA certified
Pass ISO unannounced audit
GMP certified
Awarded first US patent
Finalist of 2014 Medica eHealth Innovation Award
PixoTest® BGMS got CE certificate
ISO 13485 certificated
Carson Chen Ph.D. Chairman/CEO & Co-Founder
Dr. Chen is a visionary leader with strong business acumen, a proven track record of innovation success, and a solid understanding of the global medtech industry, especially for the leading USA healthcare market. He received his Ph.D. in Electrical Engineering at National Taiwan University and was a visiting researcher at MIT, Caltech, and Stanford between 2004 and 2012. Being named as an Eisenhower Fellow in 2019 is a recognition of his professional achievements and leadership potential as a global change agent.
Patrick Liao Vice President of Marketing
Mr. Liao joined iXensor in 2019. He serves as VP of Marketing with responsibility in marketing, eCommerce, and PR. He brings 20 years' international experience in marketing and product business management. Before joining iXensor, he was Associate VP at ACER, Global Product Line Business Director at Sony Mobile AB, Group Product Manager at Vodafone and Global eMarketing & eSales Manager at Novartis HQ. He completed his MBA degree at Rotterdam School of Management, Erasmus University.
Denny Liu Vice President - Sales
Mr. Liu serves as the Vice President of Sales at iXensor and responsible for both sales and business development. He started his career in the financial institution, then devoted himself as an international business developer to specialize in marketing value-added Made in Taiwan products to the global market. He completed his education in the field of business finance from The University of Melbourne in Australia and earned his MSc in Investment and Finance from Brunel University in the United Kingdom.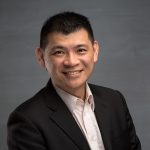 Gabriel Chao Ph.D.Director of Research & Development
Dr. Chao serves as Director of Business Development with the mission of establishing strategic partnerships with target enterprises. He has more than 15 years of industry experience in innovative medical devices, including the development and commercialization of a non-invasive blood glucose monitoring system. He received his Ph.D. in electrical engineering from National Taiwan University and was a visiting scholar at Stanford University. He is also an adjunct assistant professor at the National Taiwan University of Science and Technology.
Shih-Li SuStrategy Lead/Special Assistant to CEO
Mr. Su joined iXensor in 2020 and serves as the Strategy Lead and Special Assistant to CEO. He leads iXensor's business development team and is also in charge of global strategic partnerships, especially with big pharma and MedTech corporates. He has over 10 years of experience in business development of the healthcare industry, including experience in big pharma like MSD and Roche, as well as digital startups like Health2Sync. He holds a B.S degree in Life Science from National TsingHua University and also an MBA from National Taiwan University.
Peter Fitzgerald M.D., Ph.D
Chief Advisor and Board Member
Dr. Fitzgerald is a Professor of Medicine, Emeritus at Stanford Medical School, and a veteran in venture capital with a focus on medical device, digital health, and biotechnology. He co-founded Latterell Venture Partners, TriVentures, and TransPacific Venture Partners and has tremendous experience in transitioning start-ups toward the ideal next stages.
Hong-Jen Chang M.D.
Senior Medical Advisor
Dr. Chang is currently Chairman and CEO of YFY Biotech Management Company and leads its highly successful Taiwan Global BioFund (TGB), working closely with early-stage founders in the healthcare space. Dr. Chang enjoyed a distinguished career of public service in healthcare, including serving as deputy minister of health, president, CEO of the Bureau of National Health Insurance, and director general of the Center of Disease Control. This combination of expertise in health insurance, disease control, biopharmaceutical industry, health information systems and venture investing makes Dr. Chang one of the most unique and well-respected leaders in the healthcare space. Dr. Chang received an M.D. from National Yang-Ming Medical College, an M.S. in Public Health from National Taiwan University, and an M.S. of Health Policy and Management from the Harvard School of Public Health.
Alan Tsai Ph.D.
Co-Founder & Project Advisor
Dr. Tsai is a veteran of the medical device industry with over 20 years of experience. He was iXensor's first general manager and now serves the company as a project consultant. Prior to co-founding iXensor, he was also the founding member of Bionime and served as CEO of Bionime China. He received his Ph. D. in Chemistry at National Chung Hsing University.
Jerry Chen M.D. Ph.D Co-Founder & Medical Advisor
Dr. Chen is an iXensor co-founder and serves as Chief Medical Advisor. He is not only working as the Director of Urology & Uro-oncology at Beigang Hospital of China Medical University but also runs Brain Navi Ltd. as CEO. He received his M.D. at Kaohsiung Medical University and Ph.D. in Biomedical Engineering at National Cheng Kung University and was a visiting scholar at Stanford University.
Feng-Yu Lee Senior Compliance Advisor
Mrs. Lee serves as the president of Elite BioMedical Consulting Inc., and Dynamic Biotech Inc. in the United States. She is an expert in regulatory affairs with medical device compliance licenses for the United States. Many medical device start-ups and listed corporations are her consultancy customers for services ranging from compliance strategy, coordination to management.